Free Gift from Lynn Terry of ClickNewz.com!

Be sure to download the files below right away, and

grab anything you want off this page before it disappears

. You will not receive these links via email since you're not enrolled in the course.

Enjoy!





After studying the training modules,

if you would like to enroll in the

Niche Success Blueprint

step-by-step weekly course,

take advantage of the exclusive discount

links belo

w -instead of paying the higher public rates:



Sign up for only $17/month for 12 months


(

saving you $240

off public rates!)



One Time Payment of $147 for the entire NSB Course


(

Save $57

more

!

PLUS skip the recurring monthly charges!)




---
4-Part Series on How To Sell Advertising & Work With Brands

The goal of this course is to read and implement each Training Module

as you receive it

, completing the tasks before you move on to the next Training Module. By

implementing as you go

, you'll actually achieve much better results - in much less time! This training material is not meant to be studied. It's meant to be

applied

.

;-)



Also see:

Bloggers Guide to Pitching & Working With Brands


See below

to learn how you can

also

download

Module 21

today!




Module 17



Step-by-step Checklist for creating your Media Kit, complete with samples & live examples and a "Go Live" checklist.






Module 18





How to Sell Advertising on your blog or site... without being a "total sellout" and a simple formula to figure out what to charge for ads.






Module 19





Easy ways to find Brands, sponsors & advertisers that will pay you, and how to get MORE out of your affiliate programs!






Module 20





How to reach out to potential sponsors and brands, and score those long-term profitable relationships.




Enjoy This Series?

Enroll in the course today and start getting new Training Modules delivered to your inbox every week.

Use the exclusive discount links above to save money!



Note: You'll find the NSB Affiliate Progam info at the bottom of this page.





---

Have Questions?




Get questions answered




at the ClickNewz Forum:


Join the ClickNewz Forum



---

Tweet me your questions! :)



Join us on Facebook

Tweet Lynn on Twitter

Circle Lynn on Google+





---

Need hands-on

help?
C

ontact Lynn directly at:


AskLynnTerry@gmail.com
to learn about low cost
private

& group coaching



Want to recommend Niche Success Blueprint?
Become an Affiliate!
Earn 50% Commission which is

Paid

Instantly

via PayPal.
Module 21: Creative Strategies To Increase Sales & Revenue


Today Only!

Get the 5th Module and discover fast ways to increase your product sales & affiliate commissions

.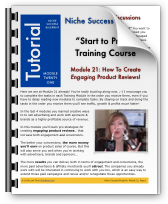 In Training Module #21 you'll get "pro strategies" for creating
engaging
product reviews that increase your sales.
Also discover creative ways to promote your product reviews and get your market engaged in product discussions - which leads to
more sales!
Includes detailed Live Examples...
Included in Module 21:
How to Host Engaging Product Discussions
What to do with your "Engagement"
Creative Strategies for Using Comments, Social Media Responses & Feedback to make even more sales!
How to Promote Your Product Reviews

(Effectively!)

Using Video to Increase Your Conversion Rates,

Fast

Creating "Social Product Engagement" to Make Sales
How To Write an

Amazing

Product Review!
Download Module 21 for only $9



Legal Disclaimer: By law I cannot imply, promise, suggest, project or guarantee anything related to your earnings or lack of, with respect to your purchase of the Niche Success Blueprint course. While I truly believe anyone can follow the steps offered and earn money online by applying them as presented, your results will depend on a variety of factors outside my control including (but not limited to) your: work ethic, motivation, desire, business practices and the time you invest.
Affiliate Disclosure: I may or may not be affiliated with companies, merchants, brands, sites , products or services I mention or recommend in the Niche Success Blueprint. In some cases I may earn commission for referrals. That said, I will not endorse or recommend anything I am not personally using myself, and stand behind 100%.